Seeing this recent
Maximum

RocknRoll

Recording of The Week
(6.15.11) about TERRIBLE FEELINGS (SE) has inspired me to write about them and some other great Swedish bands. I guess I was searching for information about
MASSHYSTERI
breaking up. The only media I could find was from either Swedish record labels or local Swedish
blogsites
, all in Swedish-English.
Among the postings was one about a new band that may perhaps fill up the void of
Masshysteri
. Maybe not necessarily the same style, but the same rock and roll punk attack. All Terrible Feelings had at the time was a
Myspace
with a few songs that you had to keep hitting play over and over to listen to them, remember that? I wonder how many plays I gave them? Those songs became their first demo which was down loadable at the end of 2010 off their
Blog
.
The demo was awesome, it has good natural sound, maybe home recording gear or tape? Songs are fast paced and twangy up tempo punk rock with 16
th
note drumming and equally fast guitar strumming. The vocals are naturally distorted sounding female shouts and harmonic talking with a melodic background vocals on some songs. The vocals also demand attention with emotional and passionate release. With a flip of the distortion pedal, the riffs range from twangy and surfy to distorted and raw with riff progressions that lead you through emotions and distress.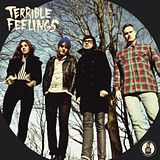 [I have to mention I feel Swedish punk is very special in that Swedish bands create very nice melodies, from punk, metal, electronic and pop (TO WHAT END?,
WOLFBRIGADE
, AT THE GATES, THE KNIFE and THE SOUNDS)
I just recently ordered a couple copies of their 7"s and a shirt, psyched on that. The band is on tour right now all over Europe and playing a lot. All of their material can be found on their
Soundcloud
page. This is good stuff!
Related bands: REGULATIONS, THE VICIOUS, IMPERIAL LEATHER